Garment-Dyed Pebble Quilt and Sham
https://www.ethanallen.com/en_US/shop-bedding-quilts-comforters/garment-dyed-pebble-quilt-and-sham/garmentpebble.html
Products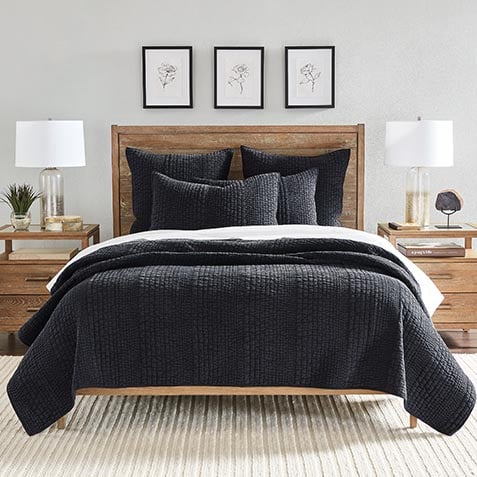 Size

Full/Queen

Color

Charcoal
Ships UPS. Estimated delivery within 16 weeks.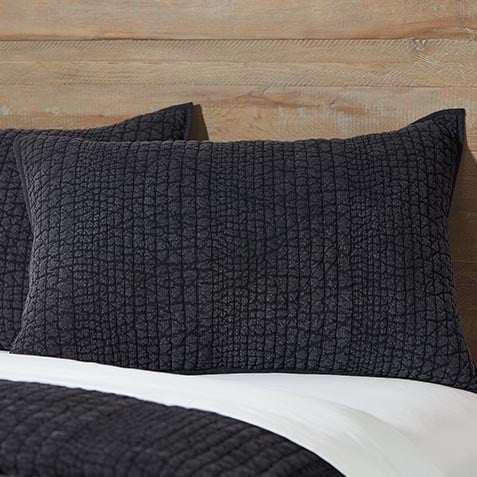 Additional Information
Product Details
If you love a vintage, lived-in look and a soft, cozy feel, you'll love how nostalgia combines with cozy comfort in our pebble-stitch garment-dyed bedding. After quilting and finishing in a unique pebble-stitch pattern, artisans carefully dye and stonewash every piece. Each quilt and sham has subtle color variations; no two are alike.
Garment-dyed quilt and sham with a pebble-stitch motif
Face: 85% Cotton, 15% Linen. Back: 100% Cotton. Filling: 100% Polyester
Quilt: Simple hem. Reverses to 100% cotton.
Sham: Simple hem. Reverses to 100% cotton. Envelope closure.
Quilt sizes available: full/queen, king. Sham sizes available: queen, king, Euro.
Shams and pillow inserts sold separately. Shams sold individually.
Also available with a channel stitch or chevron stitch pattern. Color options may vary.
PRODUCT CARE AND WARRANTY
Care instructions: Machine wash warm. Only non-chlorine bleach when needed. Tumble dry low. Do not iron. Do not dry clean.
SHIPPING & RETURNS
SHIPS UPS: At checkout, you can choose from three UPS shipping options: Standard, Two Business Day, and One Business Day. Delivery times may vary slightly based on your location.
STANDARD items ship via UPS Ground. This is our most economical option, but your order may take a few days to arrive.
TWO BUSINESS DAY orders ship via UPS 2nd Day Air. They are expected to arrive on the second business day after you receive of your shipping confirmation.
ONE BUSINESS DAY orders ship via UPS Next Day Air. They are expected to arrive on the next business day after you receive your shipping confirmation.
Hard-wired lighting is not returnable. Other items delivered by UPS may be returned within 30 days; please include the packing slip that arrived in your carton. Repack the item securely in its original carton and contact 1.888.324.3571 or email orders@ethanallen.com for a return label. Shipping fees are the responsibility of the customer, and they are nonrefundable.