How to Choose
Living Room Seating
Chit-chat hub, movie night hangout—our living rooms are the places where we (and our visitors!) spend the most time, which makes living room furniture one of the most important investments you'll ever make. Our guide will help you shop for sectionals, sofas, and chairs, and more like a design pro.

Sofas
To decide on the length/number of seats for your sofa, ask yourself these two questions:
How many people need to squeeze onto your sofa at holiday time? (If the answer is three, look for a three-seat sofa.)
For your tallest family member to stretch out and snooze, how long will your sofa need to be? Click here for details on how to measure.
If you like a sofa with a shallower seat, check out our Bennett collection. If you like something deeper, see our Conway or Spencer collections.
We also offer sleeper sofas with twin (32"w), full (53"w), and queen (60"w) mattresses; each mattress is 72" long. As a rule of thumb, you'll need 92" of space in front of your sleeper when the mattress is fully extended.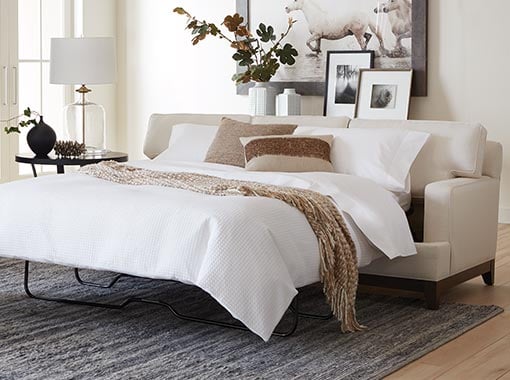 Sectionals
Sectionals are a combination of seating parts arranged into an all-in-one seating solution. Here are some of our favorite configurations:
A three-piece sectional may have two one-armed sofa parts joined by a corner, while a five-piece sectional may have two sofa parts, a corner, one armless chair, and a chaise. When you're configuring your sectional, here are some of the blocks you'll have to play with: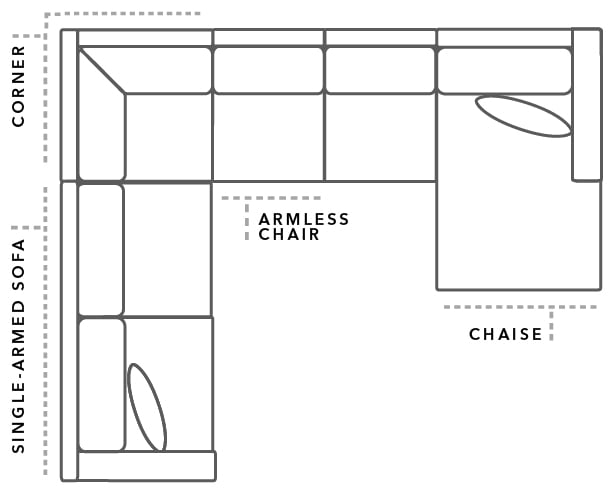 We show our most popular sectional configurations online. To create a different configuration, try the configurators in our 3D Room Planner or EA inHome® app. A designer can also create a custom configuration for you.

Chairs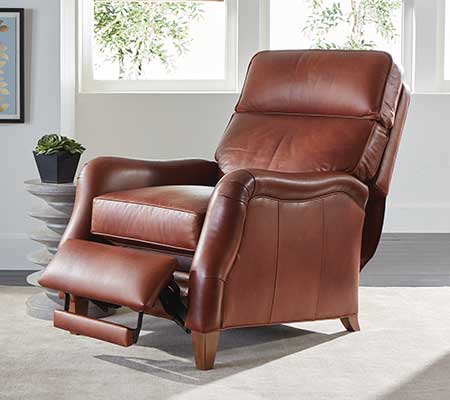 For some people, nothing says "living room furniture" like the thought of kicking back in a cozy recliner and binging some shows.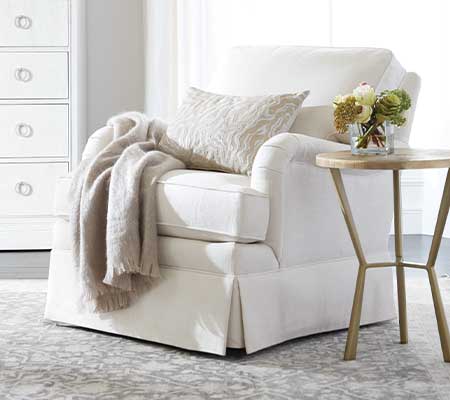 Swivel chairs turn toward multiple zones in your living room, and when you have an open transition into another room, you can keep up with conversations in both spaces.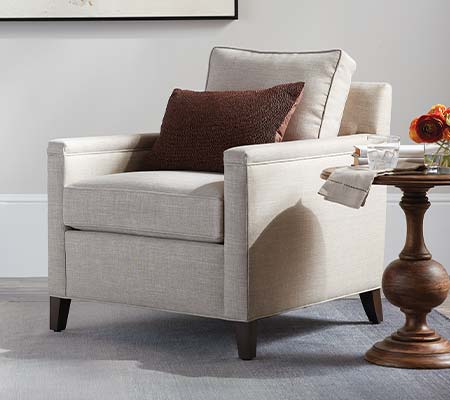 Stationary chairs are practical if you prefer to pull up a C-table and work on your laptop—or if you're just not the nap-in-your-chair sort. They're also great for formal living rooms and for seats primarily used by visitors.

Ottomans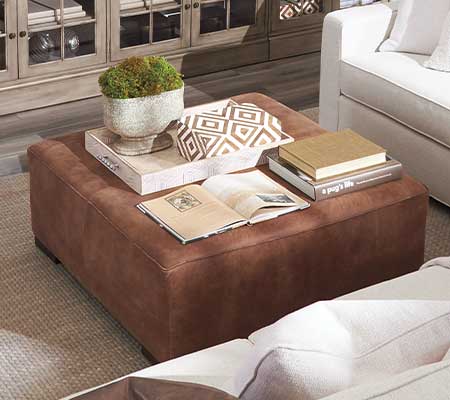 Sub a large cocktail ottoman for a coffee table; in addition to having a luxe look, it can double as extra seating.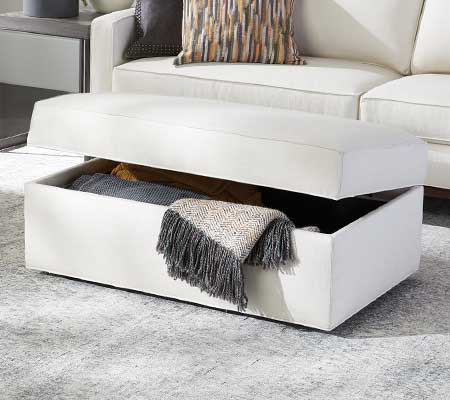 Try a storage ottoman if you need both a surface and a space to stash blankets or board games.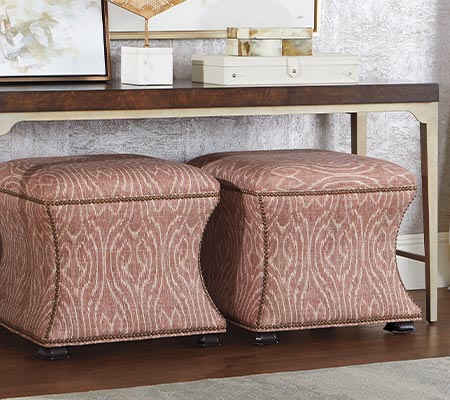 You can also store ottomans beneath an open console table and pull them out when you need extra seating.

Benches & Settees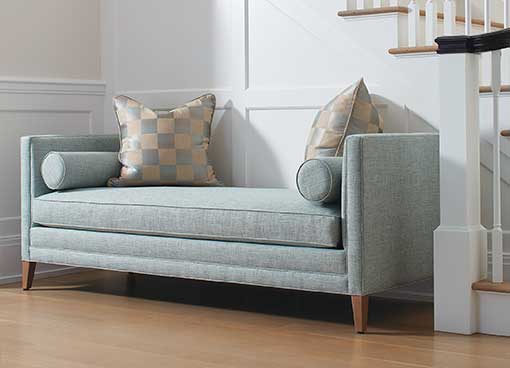 Add a bench or settee to an entryway or against a blank wall; they look beautiful with artwork or mirrors hung above.
A bench with arms is also a great room divider within a large, open living space.

HOW DO YOU KNOW WHEN LIVING ROOM SEATING IS HIGH QUALITY?
Look for these quality points before buying your living room seating:

What Seating Styles Do You Like?
Flip through these images and make a note of what speaks to your fashion sense.

What Measurements Do You Need to Know?
To make sure it fits in the room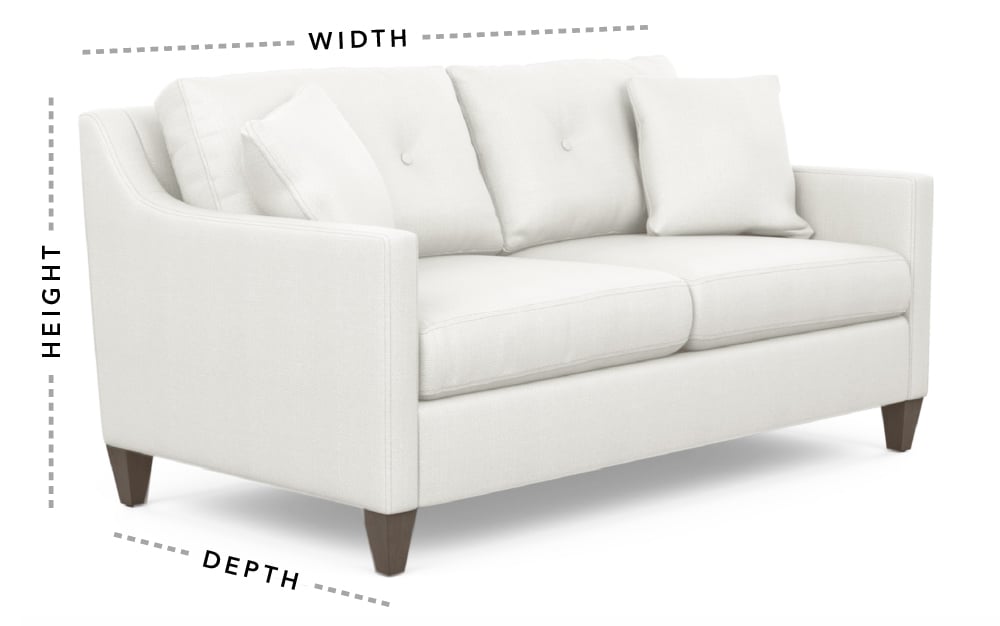 To make sure it fits you and your lifestyle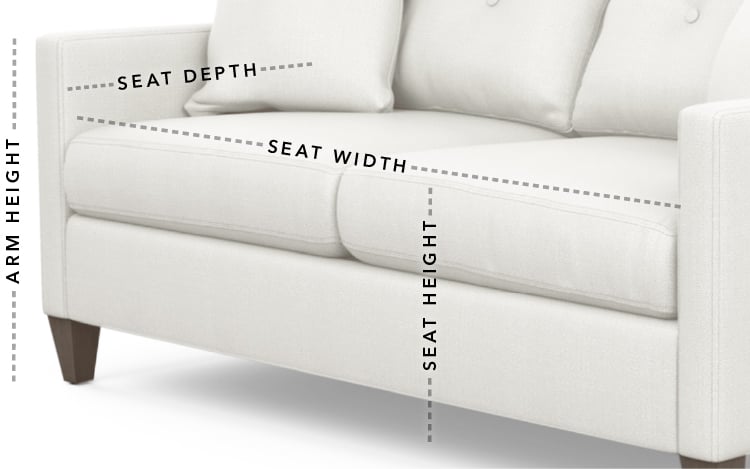 A quick note on seat depth Our living room furniture comes in seat depths ranging from 19" to 26"; be sure to consider this important measurement when you shop.

CUSHIONS: HOW SOFT OR FIRM SHOULD THEY BE?
Goldilocks was right—nothing beats sitting on a sofa or chair and having that "just right" feeling. Cushion firmness can also affect how your sofa looks: Softer cushions have a comfort look, which means they have to be fluffed more often, while firmer cushions do a better job of maintaining their shape when you get up.

soft (-9)
Filled with soft fibers, feathers, and down. The ultimate in cushiony comfort.

medium (-2)
With soft fibers for a balance of comfort and support. For firmer back support, upgrade to a foam core back cushion (-6).

firm (-8)
Inner pocket coils for support, plus a foam and feather wrap for a cozy contact zone.
Most seating you purchase online comes standard with medium cushions, but you can choose any option you want when you visit a Design Center.
WHAT ABOUT FABRICS, LEATHERS, WOOD FINISHES & OPTIONS?
Visit our custom upholstery page for complete information on customizing your living room seating.
Protect your investment by choosing a stain-resistant performance fabric or a protected leather. Also, consider adding a furniture protection plan, which will offer free repair and replacement options—after all, accidents happen!

READY TO SHOP?
Start with our sofa collections for a good overview of what's available.
If you have specific questions, click Designer Chat, or call a Design Center—our designers' services are always complimentary.
Did you find this useful?