our commitment to
social responsibility
Gender Equality
At Ethan Allen, we work every day to capitalize on the talents of women, promoting them to leadership positions in both our retail network and in our corporate management. Women-run businesses are also the driving forces behind many of our category offerings.
Our Company
70%
of the leaders in our retail network, including regional, territory, market, and Design Center leaders, are women
1 in 4
manufacturing and distribution center leaders are women
65%
of the leaders at our corporate headquarters are women
Meet Some of Our Leaders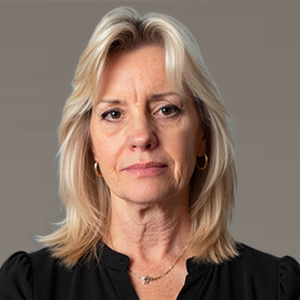 Joann Thoms
Vice President,
Digital Engagement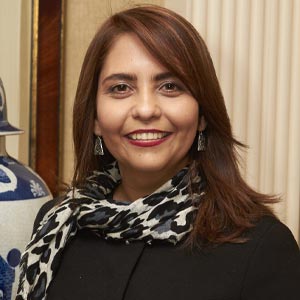 Carolina Pascua
Plant Manager,
Ethan Allen Honduras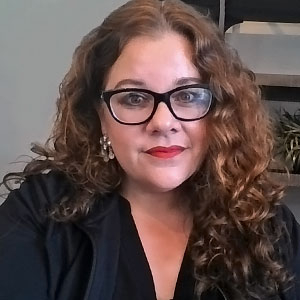 Meghan Roberts
New England
Territory Leader
Joann Thoms's career at Ethan Allen has been driven by one question: "What can I do to move the company forward?" The answers may have changed through the years, but they've never steered her wrong as her career has moved forward from architectural planning to product development to data management, all the way to being the project manager behind Ethan Allen's 3D Room Planner and EA inHome® app.
A company like Ethan Allen is a natural fit for Joann, whose father made furniture in Germany before she was born. Her parents immigrated to the U.S., and Joann studied graphic arts and drafting before landing a role on Ethan Allen's Store Planning team.
It was in Store Planning, in the world of CADs and 3D rendering, that Joann and her then supervisor advocated for developing a digital floor planner for Ethan Allen designers. "I see a need within the company for improvements," she explains, "and I ask myself, 'What can I do to make other people's jobs easier?' whether that's through harnessing technology, finding efficiencies, or improving processes."
From Store Planning, she moved into product development, managing projects from sketch to engineering to sample, and beyond. In the process, she recognized the importance of establishing a "single source of truth" for each product, which everyone in the company could access when they needed product information. Building a product inventory database led naturally back into the world of 3D when Ethan Allen decided to add 360° imagery to its website and asked Joann to manage the project.
Joann's combination of artistic training, engineering know-how, and data management savvy makes her the perfect fit for overseeing the creation of, deployment of, and ongoing improvements to Ethan Allen's digital tools. What makes her a widely admired leader are the close working relationships on the team she leads.
Although managing people can be far more complex than navigating technology's ins and outs, Joann says the key is to give people a chance to do the things they're passionate about and to always challenge them to grow themselves. "You have to find what makes them want to come to work, balancing that with what needs to get done, and help them appreciate how they're contributing and making a difference."
In 2011, Ethan Allen started working with a development firm to explore opening a wood furniture manufacturing facility in Honduras. An investment manager named Carolina Pascua was assigned to work with the Ethan Allen executives.
Carolina had worked at the firm, which specialized in the development of exports, for 20 years. Her job was to attract investors to Honduras and educate them about both the country's legal framework and the investment incentives available to them. After meeting her, Ethan Allen's business development team was so impressed that they asked her to join the company as an Administrative Manager and kick off the new plant's efforts to recruit new associates.
After four years, she earned a promotion to Plant Manager, a manufacturing leadership role in which women are often underrepresented. "For me, it is not a matter of gender but of capacity, commitment, discipline, dedication, and teamwork. If you show that, you will gain the respect of your team. I have a strong character, but I am open others' ideas when I choose what is the best for the team and for the plant. When your team sees that, everyone feels like they're part of the solutions; it is all a matter of teamwork."
Carolina has always been a self-starter. Her mother, a widow who raised Carolina and her siblings on her own, always emphasized that if Carolina wanted something, she could do it. Drawing on that confidence, she earned both her bachelor's and master's degrees, taking night courses while she worked full time at other jobs.
"I like a phrase in Spanish that I always use with my kids: Seras del tamaño de tus pensamientos, which translates as 'you will be the size of your thoughts.' Being a plant manager is a big responsibility—being in charge of people, keeping them working in a safe environment, achieving our goals, working within the quality standards, making a profitable business, and many other important things—but if you are doing something that you like, then you will enjoy your journey."
In 2007, Meghan Roberts was managing a private design firm when she was recruited to join the Ethan Allen team in Hyannis, Massachusetts. She transitioned to project management in the Plymouth Design Center and then became a Design Center manager and district manager before earning her current role as New England Territory Leader.
The nine Design Centers she serves span from Rhode Island to Maine, from quiet towns like Shelburne, Vermont, to the bustling exurbs of Boston. Meghan supports these locations by working with clients, managing any service challenges, and helping her teams meet their professional and revenue goals.
Meghan credits Ethan Allen Executive Vice President Amy Franks for helping her achieve her own career goals: "Amy taught me a philosophy of empowering others by allowing teams to make decisions and learn." Meghan passes that mentoring spirit on, helping designers and managers focus on individual goals while fostering collaboration and support for their colleagues.
In addition to building community within her team, Meghan has a knack for forming grassroots partnerships in the communities around her Design Centers. By establishing a pop-up Design Center in the Mayflower Beer Garden to test out a potential luxury market near Plymouth, or partnering with Boston Home Magazine to stage a home and helping to raise $80,000 for Boston Children's Hospital, she has found ways to improve Ethan Allen's visibility while also building positive bonds with community partners.
In a world where the loudest voice in the room often gets the most attention, Meghan's quieter approach has proven both refreshing and effective. "Meghan has an uncanny way of bringing people together with her kindness, inspiration, and energy," says her mentor, Amy Franks.
For women who want to step into leadership roles but worry that they aren't extraverted enough, Meghan has this piece of advice: Know your business. "When you have to speak, and you're going to be on calls, you can always speak to what you know," she says. "If you know your business, you can be proud of your results."
Philanthropy
Our CEO's personal charitable trust, the Irfan Kathwari Foundation, provides philanthropic donations to local universities, arts organizations, and more, while also supporting overseas education initiatives and disaster relief for our associates.
Scholarships

$700,000+
given to students

1,000+ children
of associates received awards
The Irfan Kathwari Foundation has provided scholarships for the college-bound children of Ethan Allen associates for more than two decades. Students complete an application, and a committee awards individual scholarships based on academic achievement, community service, and perseverance in the face of personal obstacles.
So far, these scholarships have helped more than 1000 students pay for tuition, room and board, and other education-related expenses.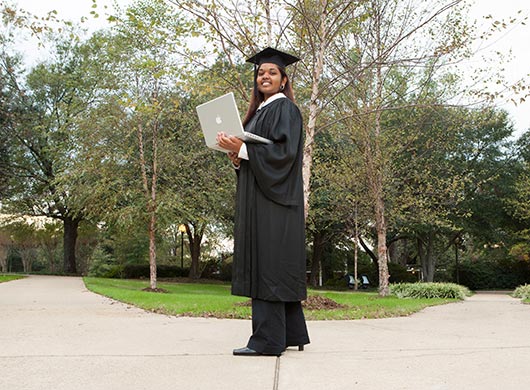 ENDOWMENTS
Ethan Allen headquarters are located in Danbury, Connecticut, which is also the home of Western Connecticut State University (Westconn). To support local economic development, to empower local high school and college students, and to train the educators of the future, Mr. Kathwari and the Irfan Kathwari Foundation have established two endowments.



$1 million
given to support the Western Connecticut State University Honors Program
Westconn's Kathwari Honors Program, built on the fundamental assumption that knowledge is an open set of questions and ideas to be explored, rather than a closed set of facts to be memorized, consists of highly interactive and interdisciplinary classes that are designed to foster both academic and civic excellence among outstanding students.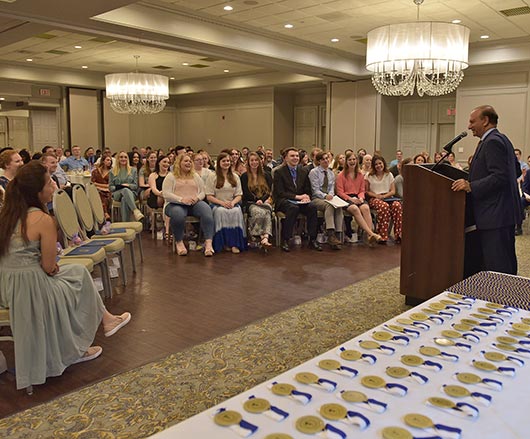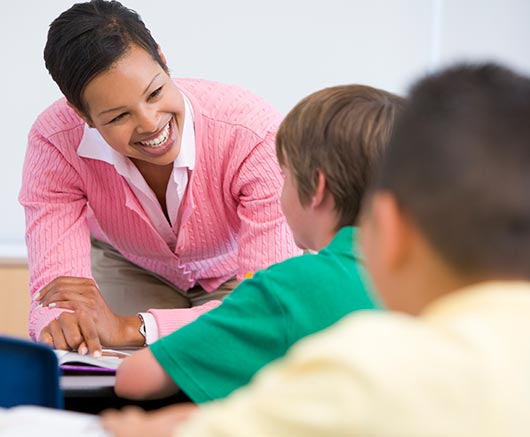 Disaster Relief
From local projects spearheaded by our community Design Centers and manufacturing plants, to the humanitarian efforts funded by our CEO's philanthropic trust, the Irfan Kathwari Foundation, Ethan Allen's commitment to giving back permeates every part of our culture.
Response to Covid‑19

over 200,000 units
of PPE produced
Starting April 2020, through our partnership with the Carolina Textile District as one of 60 participating manufacturers, Ethan Allen helped to produce more than 200,000 units of PPE.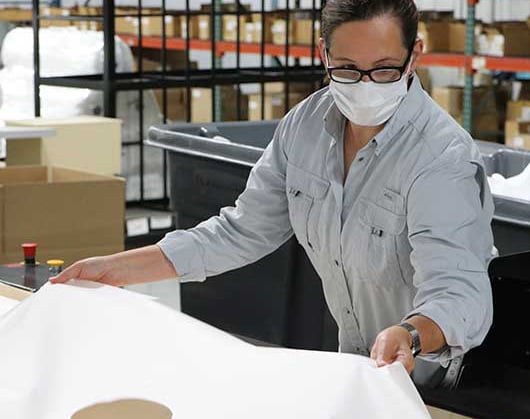 Our skilled craftspeople turned provided doctor-approved antimicrobial fabrics into much-needed, washable medical-grade masks, as well as disposable fabric gowns.
Masks were distributed to local schools, and both masks and gowns were given to nearby hospitals and other locations where essential workers needed them.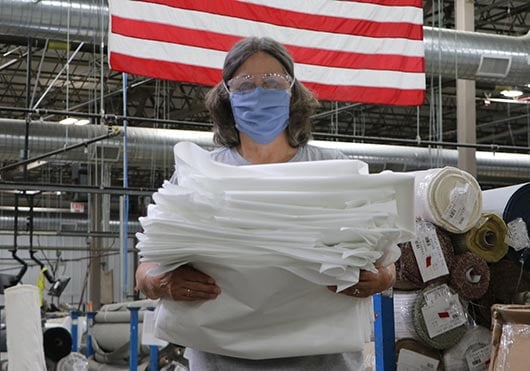 Hurricanes in Honduras
In November 2020, two hurricanes, one of them a Category 4, took aim at Honduras and Guatemala. When the Honduran government issued red alerts, we began working with the 500 associates in our Honduras workshop to take preparedness measures before the storms hit.
As the hurricanes brought immense flooding to the region, we worked to help our associates find safety, transporting them by boat or dump truck to shelters or to the homes of family and friends. Despite our best preventive efforts, 149 of our associates lost everything. Our plant manager immediately went to work, making sure our associates had at least the essentials that they needed: food, clothing, shoes, bedding, diapers, and medications, plus face masks for the COVID-19 pandemic that was well underway.

149 families
helped
Our associates received cleaning kits to help people salvage what they could of their homes, plus empty drums for storing clean water. Yet these supplies, along with the generous donations of fellow associates, weren't enough to help those who had nothing left.
Seeing the need, the Irfan Kathwari Foundation stepped in, donating one refrigerator, one gas stove and gas cylinder, and one full-size bed to each associate. Instead of facing food insecurity, our associates can now prepare and store food for themselves and their families, and they can have a comfortable place to sleep as they begin putting their lives back together.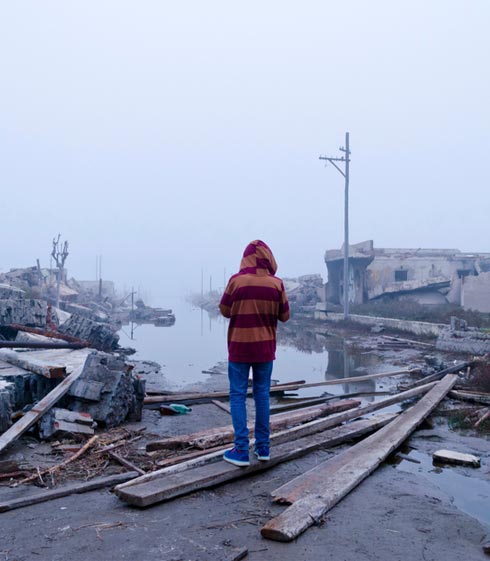 People First
We're on a mission to improve the lives of our associates and their families by offering exemplary working conditions, competitive benefits, and enhanced quality of life.
ON-SITE MEDICAL CARE & MORE

2-time winner
Great Places to Work® Mexico Certification
Many of the 1,000 associates in our in Silao, Guanajuato, Mexico, workshops live in small villages within 25 miles of our plant. To make it possible for them to come to work, we provide free transportation, and we offer two low-cost meals per day in our workshops.
Our free onsite medical clinic is staffed by a doctor and a team of experienced nurses. We provide a free pharmacy stocked with over-the-counter medications for issues like influenza, stomach bugs, or muscle pain. In addition to offering onsite medical care, we partner with a local physician to provide free medical care for every associate's family member.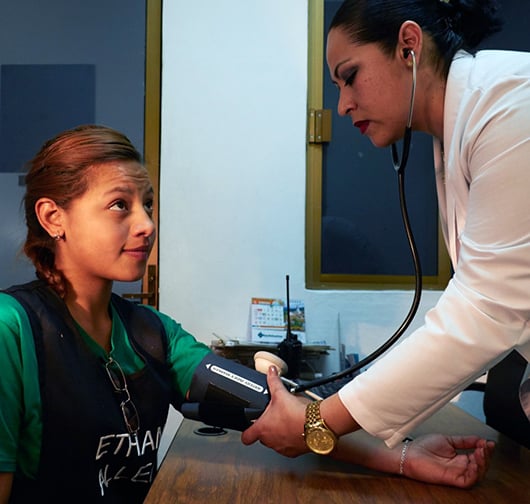 To maintain a healthy balance between work and family life, our associates enjoy a five-day work week and work 6% fewer weekly hours than the government requires. We also offer twice the annual bonus given by competing plants.
These are just some of the reasons our Silao workshops have twice been honored with Great Places to Work® Mexico certification.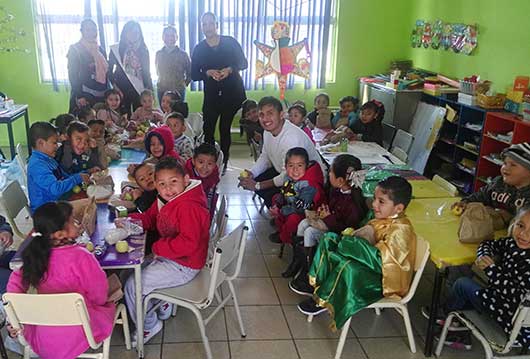 More than 80%
of associates have received free care
More than 500 associates craft wood furniture in our Choloma, Cortes, Honduras, workshops, where they receive free onsite access to medical care. The clinic provides health information, including educational lectures, performs lab tests, and sponsors seasonal health initiatives, like flu vaccine clinics. During the COVID-19 pandemic, our clinic set up a separate entrance for associates who had symptoms and oversaw the implementation of precautions in the workplace, like social distancing and masking.
Ethan Allen Honduras also sponsors a free health fair every year. Awarded "Best Health Fair" for five years in a row by the Medical Enterprise System of Honduras's Institute of Social Security, each health fair offers a free breakfast along with a range of free consultations with medical specialists, like pediatricians, nutritionists, orthopedists, and gynecologists.
During the event, associates and their families receive medical services like eye exams and vaccines, all free of charge. More than 200 consultative visits take place at our health fairs each year, including almost 100 free dental procedures performed by a team of more than 20 dentists.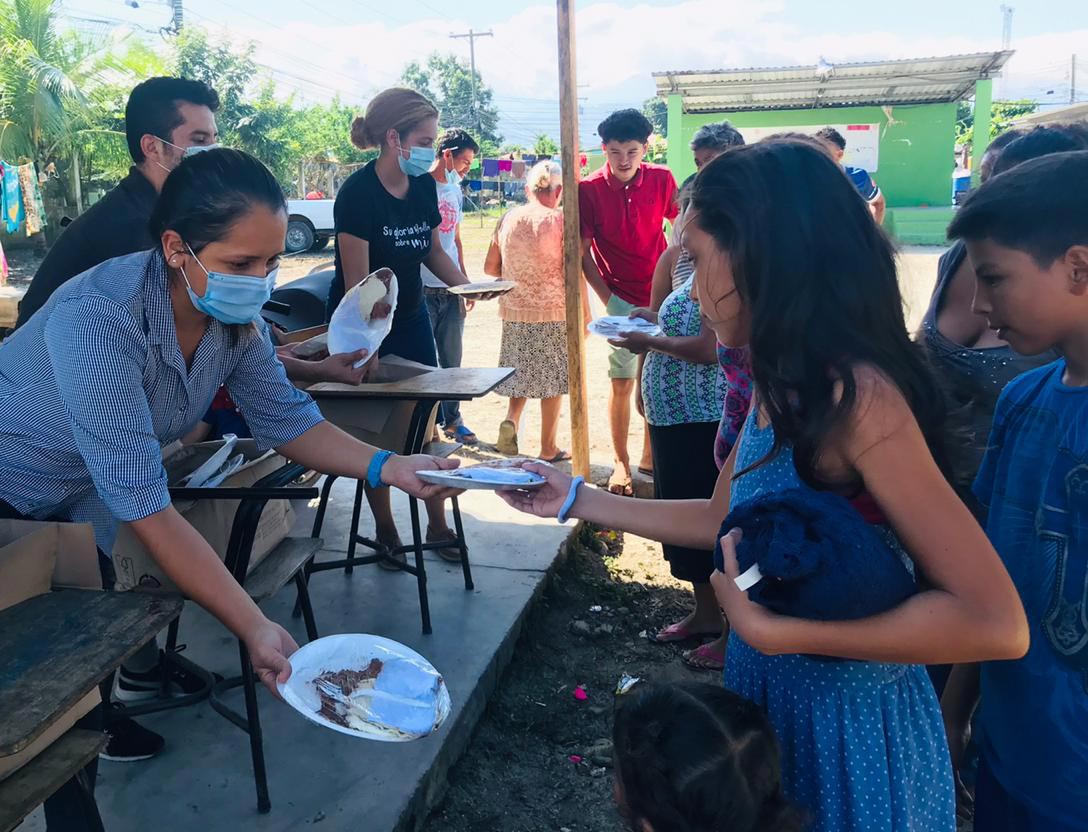 SUSTAINABILITY
There's no home to which Ethan Allen is more committed than our planet, the home we all share. We're committed to making furniture in ways that preserve our world for future generations.
Learn more >