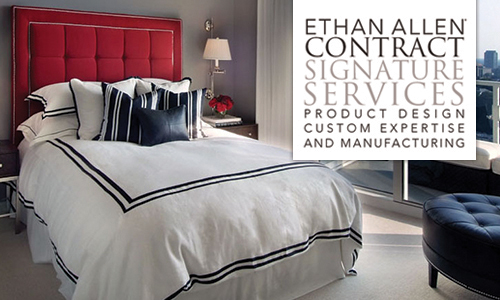 ETHAN ALLEN CONTRACT
When designing or renovating your special project—such as an inn, hotel, or resort—enjoy the signature services that only Ethan Allen Contract can offer:
All contract clients receive a complimentary design consultation and have access to our 200+ U.S. Design Centers.
We can accommodate projects big and small—from just a few accent pieces to turnkey spaces.
We can create custom and semi-custom furniture and accessories for any project.
We can provide design service if requested, along with delivery and installation at the project location.
Nearly 70% of our products are still manufactured and/or assembled here today, and contract customers experience Ethan Allen's superior quality backed by a trusted contract warranty.
We offer flexible, "just-in-time" delivery. We have experience in contract and are serious about meeting your project needs.
Click here to view our contract warranty.
WE CAN DO IT FOR YOU!