Ethan Allen Furniture Safety Initiative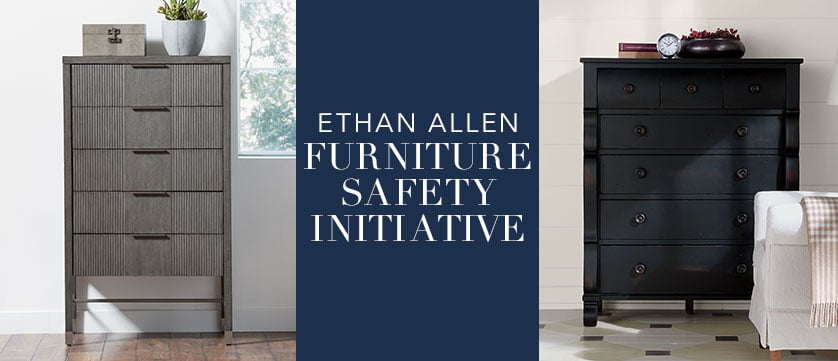 Ethan Allen is committed to doing all we can to help keep our clients and their loved ones safe.
As recommended by the Consumer Product Safety Commission (CPSC), we manufacture our dressers and other clothing storage units in accordance with the stability and anchoring standards established by ASTM International (a world leader in technical standards development). We include tip restraint kits with the purchase of clothing storage units and a variety of other furniture types that we recommend anchoring. The included tip restraints are regularly tested to meet ASTM performance requirements for such devices.
Designed to be inherently stable, our furniture meets industry best practices for tip-over prevention. Even so, we always recommend the installation of tip restraints. When installed properly, tip restraints can prevent injury and even save lives. Always anchor your furniture, especially if you have young children, who are most at-risk for tip-over accidents. Installing tip restraints is simple, and it takes only a few minutes.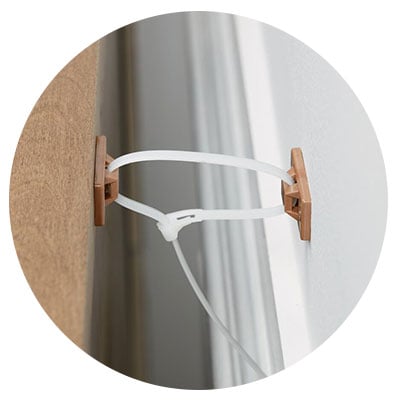 HOW TO PROPERLY SECURE FURNITURE
Our tip restraint kits are typically found in an uppermost drawer, on a shelf, or attached to the back of your new furniture. A few Ethan Allen products have unique tip restraints specifically designed for those furniture pieces. Click here to order additional tip restraints free of charge.
Follow the installation steps shown in the kit:
Locate a stud in your wall behind the furniture to be secured.
Fasten one of the tip restraint brackets to the stud, using hardware appropriate for your wall material.
Fasten the other tip restraint bracket to the back of your furniture. Make sure to install it in an area where the screws will contact solid wood (see image below).
Loop the provided strap between the two brackets and tighten it securely to connect the furniture to the wall.
The figures below show what tip restraints look like when they're properly installed on three different furniture designs: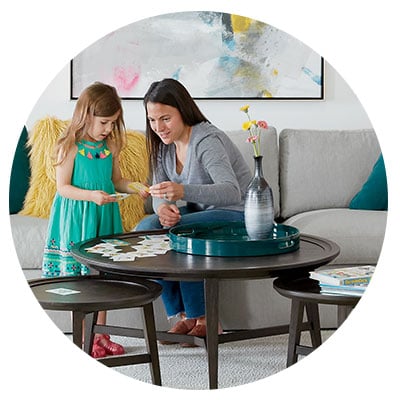 HOW TO KEEP YOUR FAMILY SAFE
Always install the tip restraints that come with your furniture.
Never allow children to climb on, stand on, or hang off of drawers, doors, or shelves.
Never open more than one drawer at a time.
Never override or remove a drawer interlock system, which is designed to prevent multiple drawers from opening simultaneously.
To increase the stability of furniture while in use, place the heaviest items in the lowest drawers or on the lowest shelves.
Avoid placing attractive objects like remote controls or toys on top of furniture where children may be tempted to climb and reach for them.
Keep power cords out of reach of children and pets.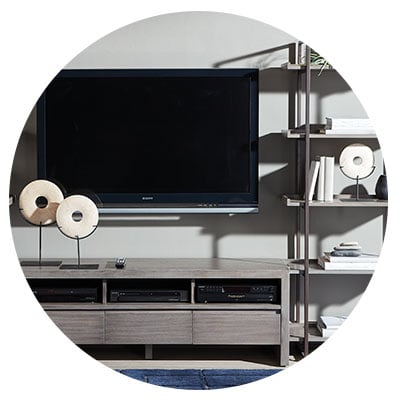 PREVENTING TV TIP-OVERS
Wall mount TVs whenever possible.
When TVs aren't wall mounted, only place them on or in furniture designed to hold a television (such as media centers and cabinets), and anchor the furniture to the wall.
When TV's aren't wall mounted, place them squarely on the surfaces of the furniture designed to hold them.
Never place a TV on a piece of furniture where the TV base or TV itself overhangs the furniture in any direction.
All televisions (including flat screen styles) that are not wall mounted should still be anchored to the wall. Anchors for securing televisions are available at retail and hardware stores.
When you move TVs and TV furniture, be sure to re-anchor both of them to the wall in their new locations.
Never allow children to reach, pull, hang off of, or climb a TV or television furniture.
FOR MORE INFORMATION
To order free additional tip restraints, click here.
To learn more about tip-over risks, prevention, and the CPSC's "Anchor It" campaign, visit the CPSC's website: anchorit.gov
ANCHOR IT