Drapery panels add a refreshing dose of color and texture to any space. In small rooms, they can create the illusion of height and open up the space; in a larger room, they become important focal points that bring the design together. If you're wondering how to choose drapery, look no further: Our step-by-step guide will give you the know-how you need to treat your windows right.

What Is the Purpose of Drapery?
In any room, a window treatment helps to control three things—

light
Nixes sun and streetlight glare and prevents furniture fading.

climate
Protects against both chilly drafts and the sun's heat, cutting your energy bills.

privacy
Conceals your personal corner of the world from the eyes of passersby.
Your window treatment may consist of drapery only, or it may include drapery along with helpers like blinds and shades.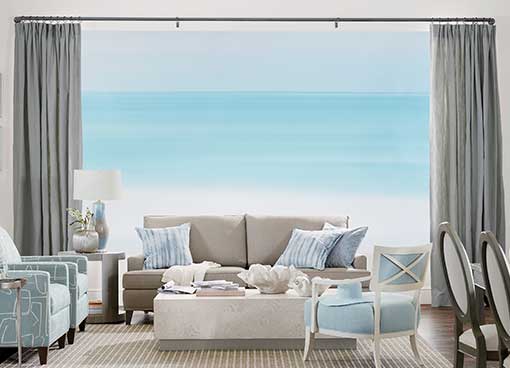 Drapery on Its Own
Choose double-lined panels to eliminate outdoor light, control your room temperature, and hide the view to the outside.
If you prefer a lot of natural light, or privacy and climate control are less important, you can choose just a single liner, or skip it altogether.
We recommend against rod pocket headers for drapery-only window treatments.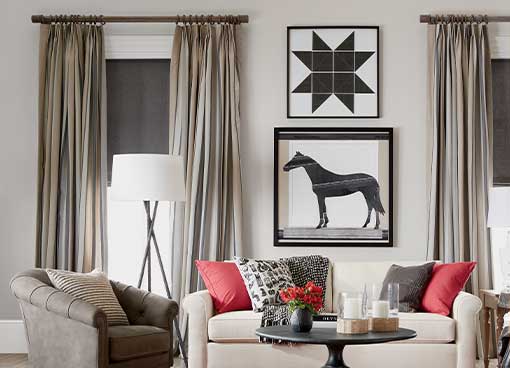 Drapery With Blinds and/or Shades
When paired with blinds or shades, drapery panels can be less wide, but be careful—skimping on width will give your drapery a narrow, popsicle-stick look.
Each panel should cover your window's edge but extend a bit toward the wall side for a full and finished look.

What Size Should My Drapery Be?
To find the perfect length, width, and placement for your drapery panels, our designers recommend these three measurements:
Craftsmanship
Our drapery panels are made from the finest natural fabrics; many are cut and sewn in the U.S. Hems are blind-stitched with color-matching thread and, where appropriate, fitted with corner weights to hang beautifully.

Decide How Your Drapery Will Look
Choose a Drapery Color
When choosing colors, look at your room's palette: Is it alive with pops of contrasting colors, or is it soothing with serene, harmonious colors? Keep your drapery choice in the spirit of your room's existing palette.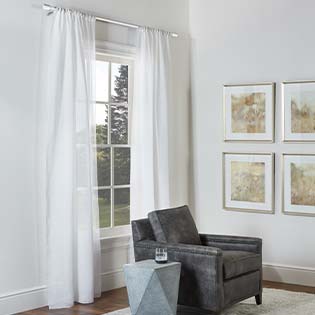 Harmonious
Choose drapery that matches or very closely coordinates with your wall color.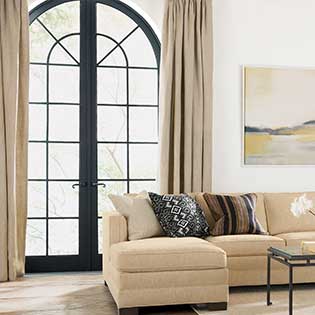 Some Contrast
Pick up a secondary color in your room's palette at a similar tint to your wall. For example, if your room is taupe and cream, and your walls are cream, choose your palette's lightest shade of taupe for your drapery.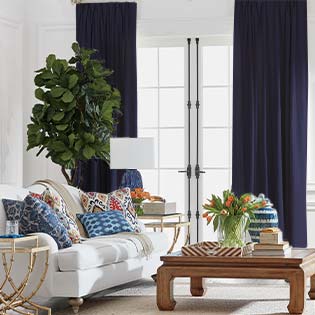 Major Contrast
If your palette is already energetic, be bold with your drapery fabric. Choose a secondary color that really pops against your walls—a dark panel against a light wall, for example.
Remember: Drapery should always fit in with your room's design, not distract from it. Brightly colored, elegant satin dupioni panels look out of place in a casual, neutral, farmhouse-style room, just as cabana-style linen drapes would not seem right in a formal dining room.
Select a Drapery Fabric
We offer a curated selection of colors online, with more options in our Design Centers.
A Note about Lining With the exception of our sheer Cabana Stripe and Sheer Linen panels (they're specifically designed to let in plenty of natural light), we line all our drapery fabrics to improve light filtration and privacy, to prevent fading of your main drapery fabric, to absorb heat and cold for temperature control, and to add weight to your main drapery fabric, so it hangs without billowing.
Select a Border (Optional)
When choosing a border color, follow the same advice that you did when choosing your fabric color.
harmonious
Choose a color that closely aligns to your drapery panel color, or skip the border altogether.
Some Contrast
Go with a contrasting color, but in the same tint as your drapery panel; for instance, a cream panel with border in mineral.
Major Contrast
A crisp white border against a dark color, or a bold metallic border against a cream color—be as daring as you want to be, as long as it makes sense within your room's palette and character.

How to Choose Drapery Hardware
Begin with a Finial
Everything about your finial should make sense both against your drapery panels and within your room's existing style story.
Character
A dressy finial—a glass faceted ball, anything in acrylic—is best suited for a dressy room, while a more organic texture (distressed wood grain, rope-wrapped wood) feels better in a casual space.
Finish
It's always safe to repeat an existing finish (e.g., a black painted finial with black painted furniture) or to choose a neutral. Bold colors may work well if they're already a part of your palette or if they're connected with a style sensibility, such as midcentury modern.
Material
Repeat an existing texture (e.g., a textured wood finial for a room with textured oak furniture), or add a contrasting texture if your room could use more variety.
Shape
You can never go wrong with a finial that repeats a shape already in your décor. More ornate shapes tend to lean formal; shapes that you'd find in your geometry textbook (spheres, cylinders, blocks) or basic endcaps can be interpreted more flexibly.
We carry the following types of finials online, with additional options and finishes available in our Design Centers.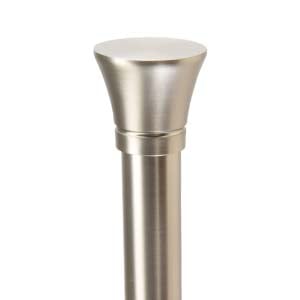 Metal
in brushed nickel, oil-rubbed bronze, or flat black finishes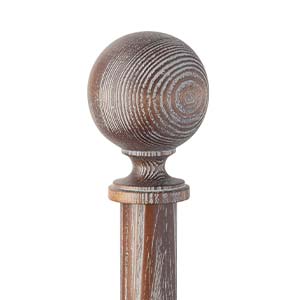 Distressed Wood
in dark gray, gray brown, or white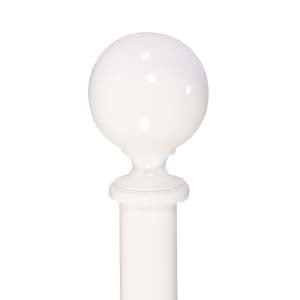 Painted Laquer
in black satin, gray gloss, or white gloss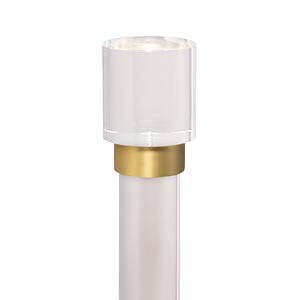 Acrylic
with either chrome or satin brass metal accents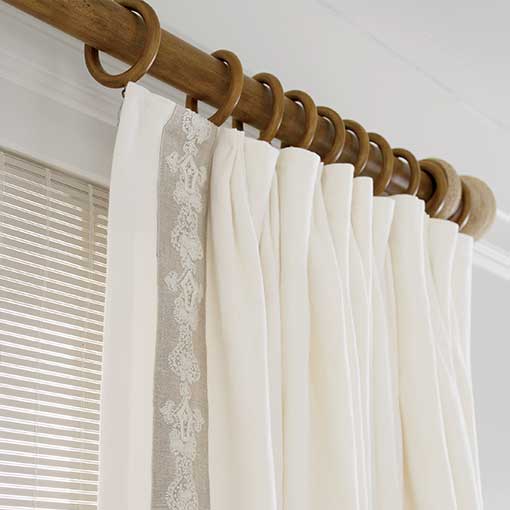 Add a Drapery Pole and (Maybe) Rings
If you've chosen any header style besides a rod pocket, you'll need to add drapery rings. We offer matched sets to eliminate the guesswork, but if you're mixing and matching, make sure the diameter of your rings or your rod pocket is big enough to accommodate the diameter of your drapery pole. We also offer traverse sets in our Design Centers for drapery panels you find yourself constantly opening and closing; ask a designer if these would work for you.
Use Support Brackets as Needed
Our 4' finial and drapery pole sets have two support brackets (one at each end); our 6' sets have three (an extra in the middle). If your drapery will span a longer space than 6', we recommend one additional support bracket for every additional 36" of pole length, with the brackets spaced evenly along the span of the pole.

Parting Thoughts: Living with Ethan Allen Drapery
We use natural fabrics for our drapery because their quality is so exceptional, but natural fibers behave differently from synthetics. Our fabrics will never be 100% wrinkle free because they react to heat and humidity within a room.
If ​you're worried that your drapery looks too wrinkled, we recommend steam cleaning just before your guests arrive​. Steam the back side of the fabric, so no spatter appears on the front.
Natural fabrics expand in warm weather and contract in cooler temperatures. Your drapery may puddle slightly on the floor in summer and hike up a bit in the winter—not a huge change, but noticeable.
Always follow the care instructions for your drapery fabric to ensure long-lasting beauty. If you have questions, ask anyone at your local Design Center. We're happy to help.
Still have questions? Click our Live Chat button to speak with a designer.
Design Custom Drapery & Window Treatments
Our designers are experts at creating gorgeous window treatments customized to your space. They can design custom drapery panels with stunning trims and tapes, advise you on adding blinds or shading to enhance your privacy and light levels, and offer advice on how to keep your window treatments child and pet friendly.
make an appointment >
Did you find this useful?