Crepe Quilted Coverlet and Sham
https://www.ethanallen.com/en_US/shop-bedding-quilts-comforters/crepe-quilted-coverlet-and-sham/crepequilted.html
Products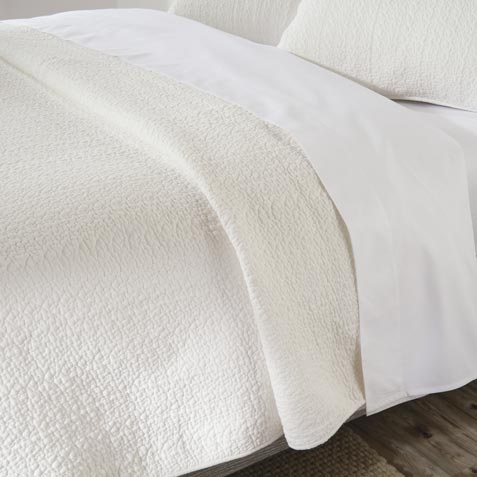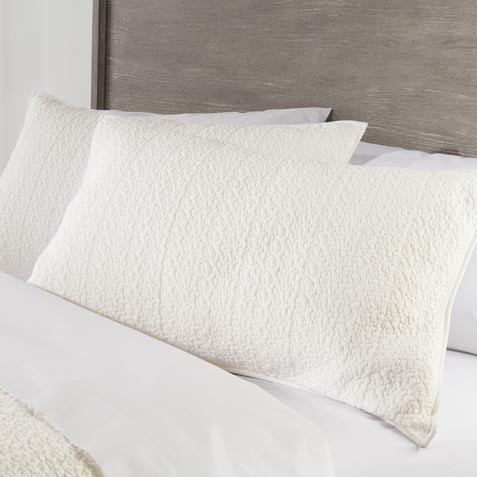 Additional Information
Product Details
Tuck this crepe quilted coverlet under your chin and open a gateway to pleasant dreams. Simple and lovely on its own; supreme as part of a layered bedding ensemble.
Lightweight, shirred, cotton quilted cream-colored coverlet; matching sham also available
Made of 100% cotton. Machine wash.
Coverlet: Reverses to a solid, cotton voile back. Simple hem
Sham: Reverses to a solid cotton back. Simple hem; envelope closure.
Coverlet sizes available: full/queen, king. Sham sizes available: queen, king, Euro.
Pillow inserts sold separately. Shams sold individually.
Additional Information
Made in India to Ethan Allen's standards and specifications
PRODUCT CARE AND WARRANTY
Machine wash warm. Non-chlorine bleach, if needed. Tumble dry low. Warm iron, if needed.
SHIPPING & RETURNS
SHIPS UPS: At checkout, you can choose from three UPS shipping options: Standard, Two Business Day, and One Business Day. Delivery times may vary slightly based on your location.
STANDARD items ship via UPS Ground. This is our most economical option, but your order may take a few days to arrive.
TWO BUSINESS DAY orders ship via UPS 2nd Day Air. They are expected to arrive on the second business day after you receive of your shipping confirmation.
ONE BUSINESS DAY orders ship via UPS Next Day Air. They are expected to arrive on the next business day after you receive your shipping confirmation.
Hard-wired lighting is not returnable. Other items delivered by UPS may be returned within 30 days; please include the packing slip that arrived in your carton. Repack the item securely in its original carton and contact 1.888.324.3571 or email orders@ethanallen.com for a return label. Shipping fees are the responsibility of the customer, and they are nonrefundable.