Sustainable Operations
Ethan Allen first established its own formal Environmental Health & Safety (EH&S) management system in 1999, and since then, we have set and surpassed increasingly high standards in environmental stewardship. We are continually working to reduce how much energy we consume and waste we produce and to increase how much water we save and material we recycle. In 2010, we decided to partner with the American Home Furnishings Alliance (AHFA) to become registered as a Enhancing Furniture's Environmental Culture (EFEC) company. The AHFA's system includes a three-tier program designed to help its member companies to systematically implement sustainable business practices in their day-to-day operations. The three-tiered program includes EFEC, Sustainable by Design, and Eco3Home.
Enhancing Furniture's Environmental Culture (EFEC)
EFEC is the first tier of AHFA's program; it is an environmental management system that requires companies to analyze and better understand the environmental impact of their processes, raw materials, and finished products. All of our domestic facilities are EFEC registered. Our registration is contingent upon a policy of continuous improvement in the areas of water and energy conservation, increased recycling, and waste reduction. For every Ethan Allen manufacturing, distribution, and service facility in the U.S., we have documented baseline greenhouse gas (GHG) emissions, baseline water and electricity usage, and baseline waste production, and we have used that information to set annual goals for improvement.
Of all the progress we've made, we are most proud of the successes we have seen in our domestic manufacturing plants. All of the scrap wood and sawdust we produce there is now used to fuel the boilers that heat those facilities, thus reducing the carbon footprints of both. At our sawmill facility in Beecher Falls, steam from those boilers also heats the kilns we use to dry wood before it is turned into furniture, and the excess steam is used to create electricity. At our Orleans, Passaic, and Pine Valley plants, we recycle nearly everything; over the past six years, we have already reduced the amount of landfill waste produced by all domestic manufacturing by more than fifty percent.
Sustainable by Design (SBD)
SBD is the second tier of the AHFA's program; it is a program that not only requires us to establish internal standards, practices, and management systems that govern our environmental performance but also requires us to evaluate, monitor, and set standards for our suppliers. All of our domestic manufacturing facilities are SBD certified.
In addition to meeting all EFEC requirements, facilities that are SBD certified must also evaluate four additional areas:
Environmental impact of supply chain. Ethan Allen has established a supply chain team that consists of representatives from all of our North American manufacturing facilities who share responsibility for implementing EFEC and SBD supply chain requirements. This group works with the EH&S staff and the product compliance manager to facilitate an integrated approach for addressing various aspects of our products that affect the health and safety of our clients.

Through the efforts of the supply chain team, Ethan Allen has:

Established a communication protocol to assist Ethan Allen suppliers with the development and implementation of their own sustainability programs. Each year, our suppliers complete surveys to report their progress.
Informed our suppliers of our progress in continuously improving our environmental management system by (a) letters/questionnaires and (b) face-to-face communication. Their efforts are disclosed in the EFEC manuals at Ethan Allen facilities.
Established a chain of custody program, which includes a compliance clearinghouse that contains the certifications, testing, and documentation for specifically regulated attributes that pertain to our products and product parts. This includes California's Airborne Toxic Control Measures (ATCM) and formaldehyde limits as well as the associated documentation of compliance. The compliance database requires compliance managers to keep current records of all chain of custody and testing requirements that may otherwise impact the safety of Ethan Allen's products.
Established a Supplier Code of Conduct that explicitly states our expectations of domestic and international vendors.
Established a preferred purchasing program that requires managers to consider the environmental impact of products and components as well as lifecycle when sourcing materials.

Overall Corporate Environmental Footprint. We use a carbon footprint calculator, which contains the environmental data associated with each facility's specific operation(s) and identifies the goals, targets, and responsibilities for each area (landfill, electricity, solid waste, etc.). Each location has its own goals and numeric targets to reduce the overall carbon footprint. The actions required to meet the goals are identified in the calculator and are documented in the corrective action section of the EH&S management system. All of the data for our manufacturing, distribution, service, and retail facilities are compiled quarterly at the location level and then submitted and compiled annually at corporate headquarters. The compilation of data shows our annual overall progress since baseline calculation year; all of the individual location goals support Ethan Allen's overall corporate goals. The manufacturing division's baseline year is 2010, while baseline year for our distribution and service centers is 2011. Our retail division is currently calculating its baseline levels and associated numeric targets.

Overall corporate goals are more general in terms of reductions and less prescriptive so that each location can develop site-specific numeric targets that make sense to its operation. We hold monthly EH&S conference calls, during which representatives from each facility can discuss any issues pertaining to deviations from established goals or targets. For example, in 2011, a flood in Beecher Falls impeded that facility's ability to meet its target landfill waste reduction due to its need to dispose of damaged materials and equipment. But despite that unfortunate event, we still reduced our landfill waste by just under 1½ million pounds from 2010 to 2013.
Global Climate Impact. We address global climate impact through the use of our carbon footprint calculator. We have taken baseline inventories of greenhouse gas emissions (GHGs) and our carbon footprint and set annual goals for improvement. We are guided by a simple philosophy: Everything we do matters. Ethan Allen has traditionally worked with our chemical suppliers to reduce, control, and/or eliminate the types of chemicals used in the finish materials (sprayed onto our products) that cause air emissions. Through strong partnerships with our chemical suppliers, we have reduced the toxicity and hazards of their chemicals, thus protecting our employees and further reducing emissions from our processes. We apply water-based coatings to our products where appropriate. We have established practices to reduce toxic chemicals in our packaging materials. We have eliminated the use of chlorofluorocarbons (CFCs) and hydrochlorofluorocarbons (HCFCs) in our packaging materials and have substituted water-based material for the solvent-based foam. From 2010 to 2013, we have reduced our GHG emissions by nearly 8 million pounds, and in recognition of our approach to chemical substitution, reduction, and elimination of hazardous chemicals in our finishes, we have been awarded an environmental merit award by the U.S. Environmental Protection Agency.
Social Responsibility. Ethan Allen has established a policy defining our commitment to protecting human rights (see California Transparency in Supply Chains Act). In addition, our Supply Chain Code of Conduct outlines Ethan Allen's expectations for all business dealings. All of our locations seek out ways to positively impact our local communities' environmental efforts. We require every location to communicate with their local regulatory agencies about their environmental efforts; we also require every location to document those communications. Many of our facilities are involved in environmental activities in their community. Our supply chain team and product compliance manager have addressed aspects of our products that directly impact public health and safety by ensuring that those products have proper labeling to identify the status of various chemicals and document that they comply with health and safety regulations. To further reduce any risk to our employees, clients, and communities, we have implemented purchasing policies that set environmental criteria for compliant materials. Compliance information is documented in our compliance files and scheduled for yearly updates.
We make our carbon footprint information available to our clients and the general public by posting it in this section of our website. The disclosure of our carbon footprint data addresses, by intent, the SBD requirement to address Global Climate Impact by taking inventory of (in part) our carbon footprint and GHG emissions and demonstrate annual improvements. The information pertaining to our overall carbon footprint will be expanded once the data from our distribution, service, and retail locations becomes more reliable with fewer assumptions made at a local level.
Our Goals and Performance
Sustainable by Design
Ethan Allen is dedicated to the responsible management of our world's natural resources so they may be enjoyed by future generations.

Our Engineering/Design Mission Statement:
Ethan Allen demonstrates its dedication to the preservation of the world's natural resources for future generations by the way it designs and engineers its products. We do not make "disposable furniture." We use only the most energy-efficient methods practicable to manufacture our products and only materials that are sustainably managed in them. Quality and durability are—and always will be—the cornerstones of our brand. When developing our products, our design and engineering teams balance economic and social considerations with environmental impacts by asking themselves two questions: "Is this an efficient, effective design?" and "How can it be built better?" Ethan Allen creates timeless designs that are built to be not only enjoyed by our current clients but to be handed down to future generations. Simply stated, we design and engineer our products so they—and our world's natural resources—will last for years to come.
Ethan Allen's Environmental Sustainability Report


We make a difference by:
Preserving natural resources though our Environmental Management System
Minimizing our environmental footprint
Providing a safe and healthy workplace
Reducing our impact on global climate change by meeting environmental goals and producing efficiently crafted products
Demonstrating responsible social performance
Our Achievements
Ethan Allen Domestic Manufacturing (2010-2013)
Category
% Change
Net Result
Carbon Footprint
-23%
We reduced our CO2e emissions by 8,329,791 pounds
Electricity
-5%
We reduced our usage by 1,885,337 kilowatt hours
Water
-41%
We reduce our usage by 14,764,076 gallons
Landfill Waste
-50%
We reduced waste by 1,418,980 pounds
Greenhouse Gas (GHG)
-19%
We reduced our CO2e emissions by 7,843,680 pounds
Recycling
+34%
We increased recycling by 525,922 pounds
Biomass Material
+8%
We increased our usage by 9,794,300 pounds
Carbon Footprint
To meet our carbon footprint reduction goals, we continually review and investigate ways to reduce our CO2e emissions in our operations. We set annual carbon footprint reduction goals for our domestic manufacturing division as a whole based on data compiled from each Upholstery, Accessories, and Case Goods manufacturing facility.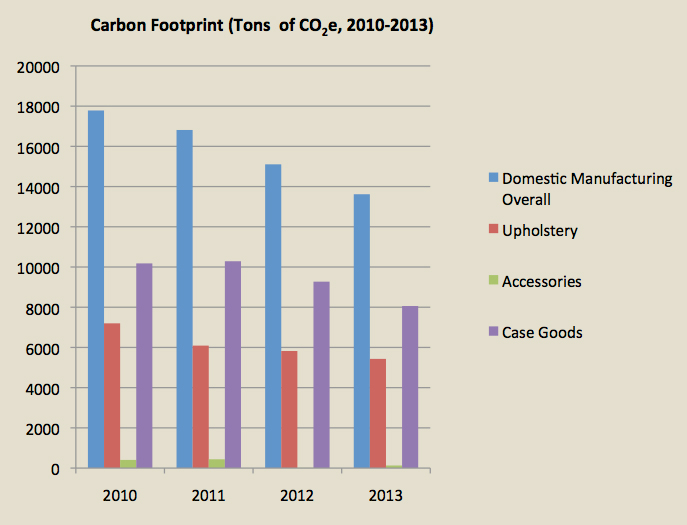 Electricity
To reduce the amount of electricity we use to heat our work spaces and dry out our lumber, we burn scrap wood to make steam. At some locations, we also use that same steam to produce electricity to run production equipment. That's true cogeneration.
Water
To control and reduce water use, we have installed low-flow toilets in our restrooms and restrictors on some water systems. Our steam leak surveys and leak eliminations have also significantly reduced our water use.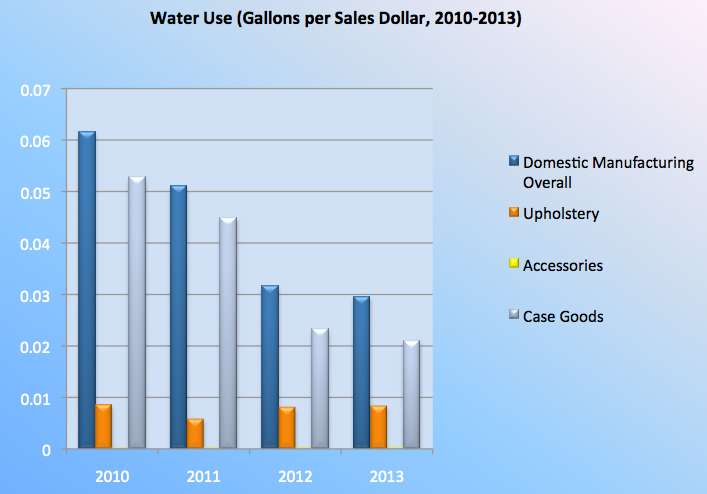 Landfill
Since 2010, we have reduced the amount of landfill waste we produce by 50%—that's 1.4 million pounds!

The success of our recycling initiatives has been key to our success in this area.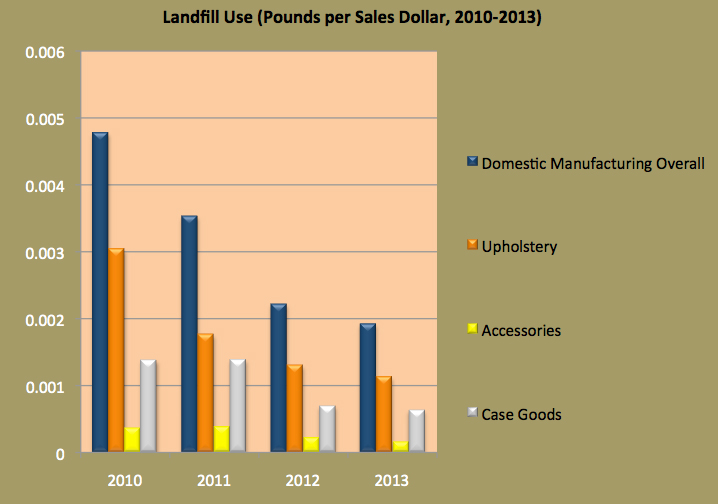 Greenhouse Gas (GHG)
We are committed to reducing our GHG emissions. This effort is supported by our carbon footprint reduction efforts. We focus on lowering our energy use, using cogeneration to produce heat and power, process improvements, and the deployment of GHG reduction technologies wherever possible.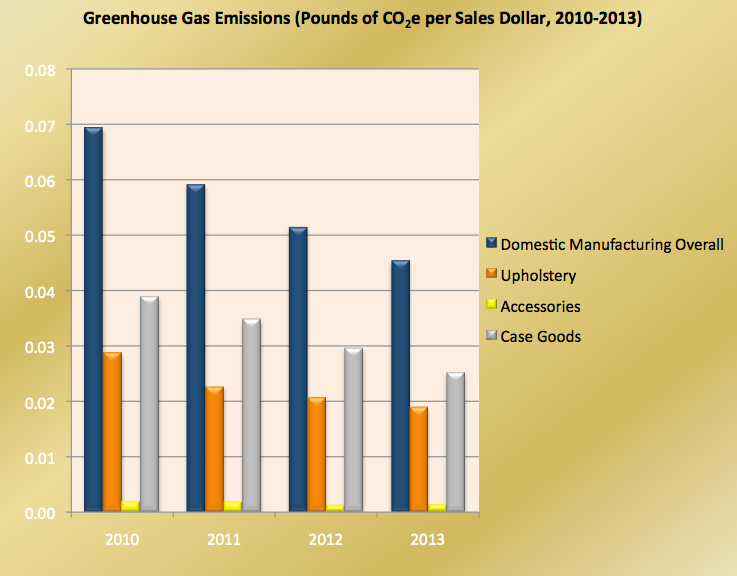 Recycling
Recycling at Ethan Allen is embraced by management and employees alike and implemented through corporate initiatives and grassroots efforts.

Our goal is to reuse and recycle glass, paper, metal, plastic, foams, textiles, and everything else as much as we can.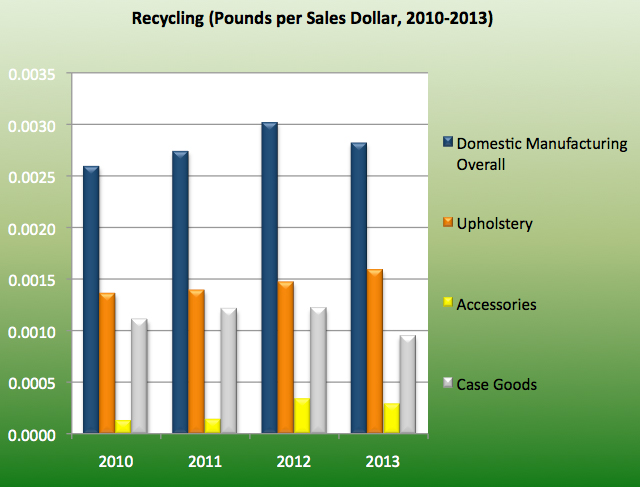 Biomass
Biomass energy provides clean, reliable heat and power in our manufacturing facilities. Burning wood left over from operations eliminates our need for fossil fuels, thus reducing our dependence on foreign energy sources.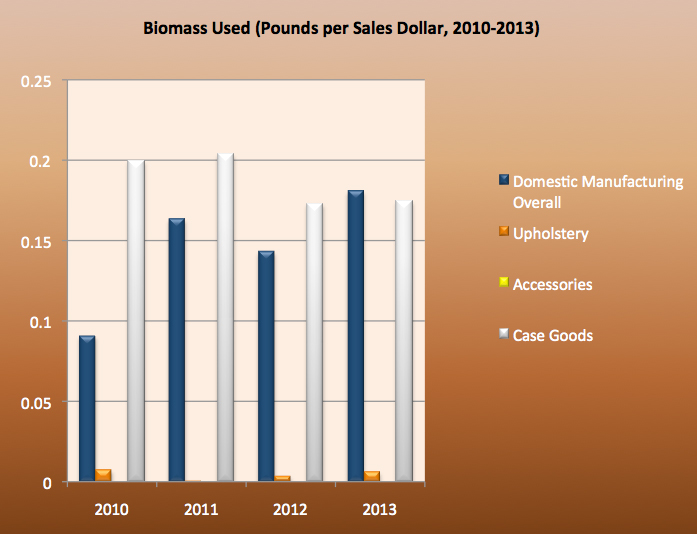 Eco3Home Product Labeling and Registration
We are in the process of compiling data in our carbon footprint calculator for the third tier of AHFA's program, Eco3Home Product Registration. Once we are confident that the comprehensive rollup of data from all of our manufacturing, distribution, service center, and retail facilities is accurate, our products will be Eco3Home registered, and for any product we make, clients will be able to look up comprehensive information about its environmental impact. For more information, visit the Eco3Home section on the AHFA website.