100" Amber and Gold Taffeta Stripe Inverted Pleat Panel
http://www.ethanallen.com/en_US/shop-clearance-rugs-drapery-drapery/100%22-amber-and-gold-taffeta-stripe-inverted-pleat-panel/DP1051DAMGS.html
Additional Information
Product Details
The dancing swaths of silk taffeta are faintly reminiscent of a long, pleated evening skirt thanks to quality hand-sewn finishing and sophisticated color choices. These double-width striped panels have eight-inch inverted box pleats and are lined and interlined with medium-weight flannel for fullness, weight, and insulation. Dressmaker details provide great value.
8" inverted pleat drapery panel (includes drapery pins)
Panel:100% silk taffeta; 100% cotton sateen lining, 100% cotton flannel interlining
Swatch: 100% silk taffeta
Double-width panel; blind stitched, floating hem with corner weight
Dry clean only
Made in India
Additional Information
Swatch Details
Colors may look different in person than they do online. We recommend ordering a swatch to ensure the color is what you hoped it would be. Color may vary due to dye lot.
Each swatch is 2.5" x 4.5", with specifications listed on the back.
There is no limit to the number of swatches you can order.
Swatches may not show pattern repeats, if applicable.
Swatches ship via U.S. Postal Service independent of other online orders.
Swatches are not returnable and may not be cancelled after 72 hours of order placement.
PRODUCT CARE AND WARRANTY
Products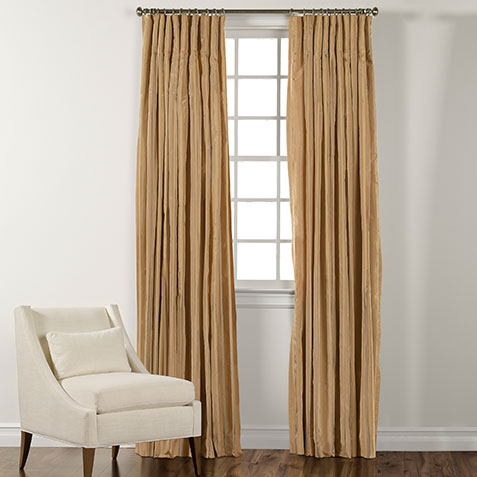 Custom cut, ships USPS. Expect delivery within 7 to 10 days.